What's an article without some comments...
In the article below, it tracked the development of mobile phones in the UK. Starting from using analogue radio signals to digital ones. The UK now uses the Global System for Mobiles or GSM for short.

What's interesting about this particular article is the figures put forth in red. "...nine years to rack up its first million customers but only 18 months to get the second million."
To put it simply, Vodafone experienced a slow uptake of its 'new' mobile technology in its first few years. This despite the fact that this was not a restrictive technology where only a few have access to.

One could attribute this social phenomena to the nature of mobile technology. Assume a customer makes a subscription to Vodafone's mobile service in 1985, who can he call with his brand new, briefcase-like mobilephone?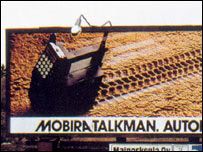 Hardly anyone i guess. Everyone would still be using land lines to make phone calls. This is because the rest of the people in that era requires some time before embracing this new technology.

3G technology is considered a new technology to most of us and I'm sure it'll take some time before a majority of us decides to splash our money on a 3G mobile phone.